If you have any questions, call our office at 865 428-6392.
PLANNING YOUR WEDDING
This is somewhat like a recipe. You can add or take away an ingredient or two that suits your particular taste. In a recipe on making rabbit stew, the recipe starts, "First, catch a rabbit." The following guide assumes "you have caught your rabbit."
STEP 1 SELECT A DATE AND TIME
Tips on Date & Time
As soon as you get engaged, people will start asking you when you're getting married. They can't help it; they're interested.
It's hard to really start doing serious wedding planning without having a specific date in mind, so this is something you'll want to settle on pretty quickly.
Try to find out when your family and friends will be available, and use that as a guide. However, it's impossible to please everyone — ultimately, you're just going to have to decide and hope that people will be able to come (but accept it if they can't). Some couples pick a holiday weekend so folks can take advantage of the Monday holiday.
Once you've set a date, let your guests know as far in advance as possible so they can make travel and vacation plans. You may want to send out a "Save the Date" card as soon as you set the date.
If you have a specific date you're attached to, then just go for it — in the world of wedding planning, anytime you can make a quick decision, do it, and do it fast (before you change your mind!).
STEP 2 SETTING A BUDGET
After determining the total that you could spend, use the budget figures in bridal magazines and on the internet to come up with a preliminary budget. We hope this site will give you some assistance. We give package prices in different budget categories. We also list "EXTRAS" with as much information as we can find. Prices change not only yearly, but seasonally too. However, you should be able to get a good idea of the pricing for your budget.
STEP 3 DETERMINE WHERE
It is assumed that you want to be married in the Smoky Mountains of Tennessee. We hope you choose Smoky Mountain Weddings by Value 2 U. Regardless, it is highly suggested you choose and book a place as soon as possible. This area is a very popular area for weddings and they are booked well in advance. It is also advised you book a reception area (if any) and your honeymoon cabin, chalet or suite at the same time. Once again, we have tried to make this easier for you by including suggestions and prices. Don't forget some of these items are included in our packages.
STEP 4 PHOTOGRAPHER
Some of our packages do include pictures. You can always add photographer and pictures as an a la carte. We use only the state of the art Sony digital cameras with 8 to 10.2 mega pixels. Our photographers all take the course from Sony or equivalent. We also offer all your pictures on a CD. The CD comes with a copyright release so you can make as many copies and at any size you want, e.g., 8X10.
STEP 5 FINDING THE WEDDING GOWN
After setting the date, the site, and the photographer, the next step is to find a gown. Some dresses, once ordered, could take several months to come in. We will be offering a list of places soon to order a dress. However, you may want to look in bridal magazines or even the internet.
We can recommend one place in Gatlinburg for Rentals. They rent gowns of all sizes as well as tuxedos: Fantasy Bridal.
STEP 6 SELECTING A THEME (OPTIONAL)
For those who wish a special theme for their wedding need to start early and know what is involved. The wedding party needs to know ahead of time in order to select dresses and tuxedos to compliment the theme. You may also want to coordinate such things as flowers and favors according to your theme. We will soon put up some links for theme ideas. However, most people who want a theme already have one in mind.
STEP 7 FLORAL ARRANGEMENT
Two of our packages include a silk bridal bouquet. If you feel you want to special order flowers, the following are some tips you may find useful. We can make the floral arrangements for you or send you recommended florists in our area.
Tips on Flowers
Be sure to bring pictures of the dress(es) with you, swatches of colors, and ideas and clippings from magazines.
Let the florist use his/her expertise and allow him/her to offer suggestions
Make sure the florist shows you photos of his/her own work (not FTD arrangements).
Look into the flower cases and make sure all the flowers look fresh.
Make sure the florist knows what's in season for your wedding and will help you find seasonal flowers to create the look you want — using seasonal flowers instead of special ordering can save huge amounts of money.
If you are coming from outside of Sevierville, Pigeon Forge or Gatlinburg, we recommend you order your live and silk bouquets from us. We purchase a high volume of flowers so we get big discounts. You will actually pay much more at a local florist than from us. Call us for a quote. Additionally, it is one less thing you have to worry about since we deliver to you at your wedding location.
Ask who will be setting up for your wedding, and request that the florist you speak to be the one who sets up for you.
If possible, watch the florist setting up another wedding, so you can get an idea of how he/she works.
A skilled florist can often suggest options which will be less expensive but will create the same effect as more costly flowers.
If you're willing to trust your florist fully, give him or her a sense of color and style, and let the florist go to the market just before your wedding and choose the least expensive flowers that will accomplish your overall look.
There are also many options besides working with a professional florist. You could ask a friend to arrange the flowers for — or with — you, buying them wholesale if possible. Or contact your local art school and let students of flower arranging do your flowers. Silk or dried flowers are also good cost-cutting options.
FOLLOWING STEPS (SOME OPTIONAL)
MUSIC: Please contact via e-mail our Wedding Coordinator and arrange the music you want. Special Music with professional singers and musicians (e.g. Violinist, Harpist) can be arranged. We also can provide a DJ.
INVITATIONS: Select and send out invitations at least three months in advance. If you have not sent out a "Save the Date" card, you may want to do this earlier so people can plan their vacations and trips.
VIDEO: If you want a professional videographer, we can arrange that for you. However, you may want to have a friend or family member do a video.
REHEARSAL DINNER: For those who are having a rehearsal and want to book a restaurant for a rehearsal dinner, let us know and we will suggest some places for you.
MOTEL ROOMS FOR OUT OF TOWN GUESTS: It is highly suggested that you let your out of town guests know to call certain hotels and motels with whom you have made arrangements. This is a very popular resort area and most hotels and motels book up very early. We can also help you with that if you e-mail us.
DISC JOCKEY: We also have an excellent DJ that we use. Let us know via e-mail.
CAKE: Our cakes are THE BEST. If you need a special type cake, e.g., you need for a theme, we can accommodate for slight extra charge.
WEDDING PARTY GIFTS: Don't forget those gifts for those people who shared your special time.
MARRIAGE LICENSE: Plan when you will get into Tennessee, so you can pick up your license. Remember, you can get it on the same day of your wedding, but not more than 30 days in advance. The following should help you:
GETTING YOUR MARRIAGE LICENSE
Getting married in Tennessee is surprisingly easy. There is very little red tape. A Tennessee marriage license can be obtained in person from any of the County Clerk's Marriage License Centers. There is no waiting period. Both parties must be present to obtain the marriage license. Proof of age is required by a valid driver's license; if applicants do not have a driver's license, they may use a state-issued I.D., a valid passport or certified birth certificate. No blood tests are required, and applicants need not be residents of Sevier County to wed here. Couples may also bring a valid Tennessee marriage license from anywhere in the state of Tennessee, but licenses are only valid for 30 days after their issue. If applicants are under the age of 18, both parents or legal guardians must sign the marriage certificate. No appointments are necessary to obtain the license. Licenses cost $45, and the County Clerk will only accept cash in the exact amount. DISCLAIMER: We put this information on here to help. We are not responsible for changes. PLEASE call contact numbers below for up to date information and changes. Thank You. Even Easier Now – Click for License Online:
Click here: County Clerk's Online Marriage License System – License Pre-Application
MARRIAGE LICENSE CENTERS
Gatlinburg Shilling Center
Reagan Drive, Gatlinburg.
Monday, Wednesday, Friday: 8:00 am – 4:30 pm
Closed Tuesday and Thursday
Saturday: 9:00 am – 1:00 pm
(865) 430-3404
Sevier County Courthouse
Court Avenue, Sevierville
Monday–Thursday, 8 a.m. to 4:30 p.m.
Friday 8 a.m. to 5 p.m.
(865) 453-5502
Pigeon Forge City Hall
Pine Mountain Road, Pigeon Forge
9 a.m. to 5 p.m. on Saturdays only.
(865) 908-6613
WE WILL BE ADDING MORE INFORMATION ON "THINGS TO DO" FROM TIME TO TIME. THE FOLLOWING RESOURCES WE HOPE WILL BE HELPFUL.
FISHING INFORMATION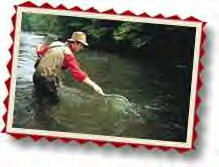 The Smokies are known for their native brook and brown trout, and Gatlinburg and the National Park are crawling (or should we say swimming?) with over 900 miles of rivers and streams that are just waiting for you to cast your line. Before you pack up your tackle box, however, there are local and state regulations that have to be observed. For example, children under the age of nine do not require licenses or permits of any kind, whereas adults must possess various combinations of local and/or state licenses. The requirements vary according to age, and state of residence. For a brochure which explains these regulations in detail, call the Gatlinburg Recreation Department at (865) 436-4990 and ask for their Trout Fishing brochure or call Gatlinburg City Hall at (865) 436-1400. Both locations can also give you specifics regarding the different fishing seasons and fishing limits in the city.
Once you've obtained your permit(s), you're allowed to fish in many of the city's waters including West Prong of the Little Pigeon River, LeConte Creek, Roaring Fork Creek and Dudley Creek. There are also two designated children's fishing areas which are heavily stocked with trout. These are located at North Gatlinburg Park, at the northern Parkway entrance to the city, and Mynatt Park off Airport Road. Both of these sites are marked with signs which indicate the boundaries of the designated areas. By the way, no fishing of any kind is allowed in Gatlinburg on Thursdays; this is the day that the city stocks its waters with trout. Also, between December 1st and March 31st, all trout caught in Gatlinburg must be immediately released.
Fishing is permitted in most of the National Park's waters, except for those which are posted otherwise in order to protect certain species of fish. Both the National Park and the City of Gatlinburg allow only single-hook lures and flies as bait; no worms, corn or natural bait of any kind are permitted. As in Gatlinburg, proper licenses are required.
Average Seasonal Temperatures
| | | |
| --- | --- | --- |
| Month | High | Low |
| January | 50.1 | 28.7 |
| February | 50.7 | 27.5 |
| March | 59.8 | 35.3 |
| April | 73.5 | 44.8 |
| May | 78.0 | 48.6 |
| June | 86.2 | 56.7 |
| July | 87.1 | 59.6 |
| August | 87.2 | 59.6 |
| September | 84.1 | 53.3 |
| October | 74.1 | 41.5 |
| November | 64.4 | 37.8 |
| December | 50.6 | 28.1 |
Are you interested in coupons or travel deals for the area? Contact us!Still Looking for More Information in the Smoky Mountains?
Go to smokymtncoc.com